The US vowed "serious consequences" for North Korea's rocket launch with ballistic missile technology on Sunday, as secretary of state John Kerry called foreign ministers in South Korea and Japan to discuss actions against the pariah state.
The State Department said in a statement that Kerry reassured both foreign ministers that the US has an "ironclad commitment to the security and defense" of its allies. He told them the rocket launch, ostensibly to send a satellite into orbit, "threatened international peace and security", according to the statement.
Earlier on Sunday, the 15 representatives of the United Nations security council held an emergency meeting to discuss the launch, and unanimously condemned North Korea for defying sanctions against it.
Standing alongside her counterparts from South Korea and Japan, American ambassador Samantha Power told reporters: "We will ensure that the security council imposes serious consequences. DPRK's latest transgressions require our response to be even firmer."
"The members of the security council strongly condemned this launch," said Rafael Dario Ramírez Carreño, the Venezuelan ambassador and president of the council this month. He told reporters the launch was "a serious violation".
Ramírez Carreño said the council "restated their intent to develop significant measures" against North Korea, as a consequence of a nuclear test in January and Sunday's rocket launch.
Power said she hoped the council would vote on a draft resolution to expand existing UN sanctions on North Korea "as quickly as possible".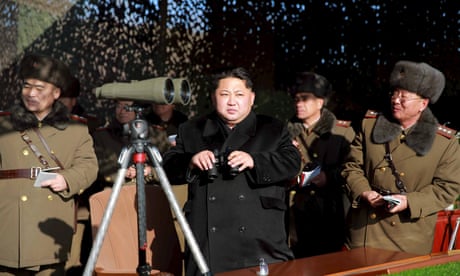 North Korea claims successful hydrogen bomb test in 'self-defence against US'
"It is urgent and overdue," she said, adding that she hoped China would put pressure on the isolated country.
"We are hopeful that China, like all council members, will see the grave threat to regional, international peace and security, see the importance of adopting tough, unprecedented measures, breaking new ground," Power said.
Diplomats said Washington is closely consulting with Japan, South Korea, Britain and France on its discussions with China, while Beijing is keeping in close contact with Russia, another nation with veto powers over resolutions.
Kerry and Ramírez Carreño also stressed the importance of a united international response.
Japan's ambassador, Motohide Yoshikawa, said the draft under discussion would have "much more strengthened measures" against Pyongyang.